---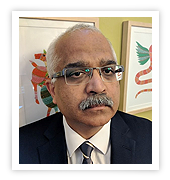 ---
Message from Our Director
Welcome to the Center for Environmental Politics!
Our mission is to play a leadership role in producing and disseminating social science research on environmental politics, policy, and governance at local, regional, national, and global levels. The Center's 45 Faculty Associates are leaders in their fields, 26 Graduate Fellows are working on exciting doctoral projects, and 21 Undergraduate Fellows are engaged in independent research. Within the University of Washington, we facilitate faculty and students to build connections, establish networks, and initiate truly multi‐disciplinary conversations about the political and institutional dimensions of environmental challenges. Externally, we are in the forefront of creating and nurturing a community of scholars committed to theoretically informed and empirically rigorous research on environmental politics and governance.
Why focus on politics, policy, and governance? Although there has been substantial progress in the development of technical and scientific knowledge about the causes of several environmental problems, the translation of these ideas into politically feasible policy regimes has been a major stumbling block. The repeated lessons of these failures underscore the basic point that environmental challenges pose distinctive political and policy challenges that need to be addressed with equal footing to their economic and technical dimensions. Therefore, the Center's agenda is motivated by a core question: why are individuals and organizations not adequately motivated to address many environmental problems, despite the fact that the risks and costs associated with them are substantial and that attractive technical solutions to address them exist?
The Center hosts eminent faculty located across units such as political science, communications, geography, philosophy, history, anthropology, environmental and forestry sciences, American Indian studies, law, marine affairs, built environment, earth and space sciences, and international studies.
The key activities of the Center include: (1) the multi-disciplinary monthly Duck Family Colloquium Series, (2) the annual Duck Family Graduate Student Conference, (3) the Doug and Maggie Walker Environmental Conversations, and (4) Graduate and Undergraduate Fellowship program.
I am grateful to the Department of Political Science and the College of Arts and Sciences for their support. Importantly, I am grateful to Susan (who passed away in 2015) and Gary Duck who have provided resources to fund several of our activities. Gary and Susan are UW alumni and have generously supported the political science department over several years. Susan passed away in December 2015 after a prolonged illness.
Dick Wesley, who is with us no more, was a generous benefactor of the political science department and an important part of our intellectual activities. In 2015, the Center hosted the inaugural Richard B. Wesley Conference on Research Frontiers in Environmental Politics and Governance (epgnetowork.org). The 2016 EPG conference was hosted by ETH Zurich, the 2017 conference by Indiana University, Bloomington, the 2018 conference by Stockholm University, the 2019 conference by UC Santa Barbara, the 2020 and 2021 online conferences by the University of Oslo, the 2022 Conference by Penn State University and 2023 conference by University of Glasgow. The 2024 conference will be hosted by Université Laval in Québec City, the 2025 conference by a consortium of Swiss universities – the University of Lausanne, University of Bern, and ETH Zurich, and the 2026 by the University of Wisconsin-Madison.
Public scholarship and public outreach is an important goal for the Center for Environmental Politics. With support from Maggie Walker, we have launched a new initiative, Doug and Maggie Walker Environmental Conversations, that features prominent environmental leaders/practitioners who share their perspective on real-world environmental policymaking.
Mel Belding, a longtime supporter of the Center, has instituted the Mel Belding Travel and Research Grant to support the conference travel of Graduate Fellows associated with the Center.
Recently, Everette E. Dennis and friends have endowed the Emily Thompson Smith Endowed Fellowship for undergraduate students interested in doing research on environmental politics.
I welcome your participation in the Center's activities in any capacity as you deem fit. Should you have ideas on how we can do a better job of supporting the Center's mission, feel free to contact me.
Regards,
Aseem Prakash
Professor, Department of Political Science
Walker Family Professor for the College of Arts & Sciences
Founding Director, UW Center for Environmental Politics